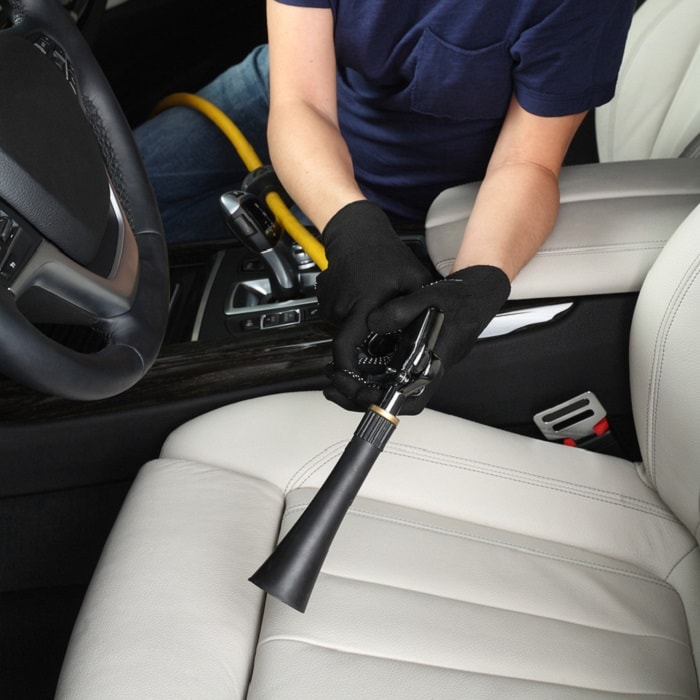 Spring has been sprung for a while, which means you're likely behind on spring cleaning your car. You spent thousands of dollars on your vehicle so it's important to treat it with the care it deserves. Fortunately, your local Nissan dealers in Silver Spring, MD are here to help.
Exterior
At Herb Gordon Nissan, we always start with the outside of our pre-owned Nissan cars. Begin by thoroughly rinsing the body using a hose. Once you've rinsed off as much dirt as possible, scrub with a thick sponge and soapy water. Work your way down from the top, to catch any trickles of rinse water. Next, use a tire cleaning spray and a brush to scrub around the wheels and between the treads. When you're finished, dry with a microfiber towel.
Interior
Step one is always removing clutter. Throw away your old Starbucks cups and put your cup holder change in your piggybank. If your vehicle has extra storage space, like the 2019 Nissan Rogue, be sure to check every compartment. Then, use a mild cleaning spray and microfiber cloth on the dashboard and other surfaces. Vacuum the seats, floors, and trunk, taking special care if you have leather upholstery. Finish up with glass cleaner on the windows.
Under the Hood
Many owners of new Nissan vehicles in the Columbia area neglect this aspect of maintenance, but your machinery needs love too. For the underbody, rinsing with a hose should be fine. The engine, on the other hand, is a little more complicated. Open the hood and remove every plastic cover you have access to. Then, spray the entire compartment with a degreaser before scrubbing away using a small brush with synthetic bristles. Metal bristles can scratch and damage parts of your engine, which is the last thing anyone wants. Finally, rinse and replace your covers until your next maintenance.
By now, your car should be clean enough for a trade-in. If you have any questions about vehicle spring cleaning, reach out to your Nissan dealers serving Rockville at Herb Gordon Nissan.